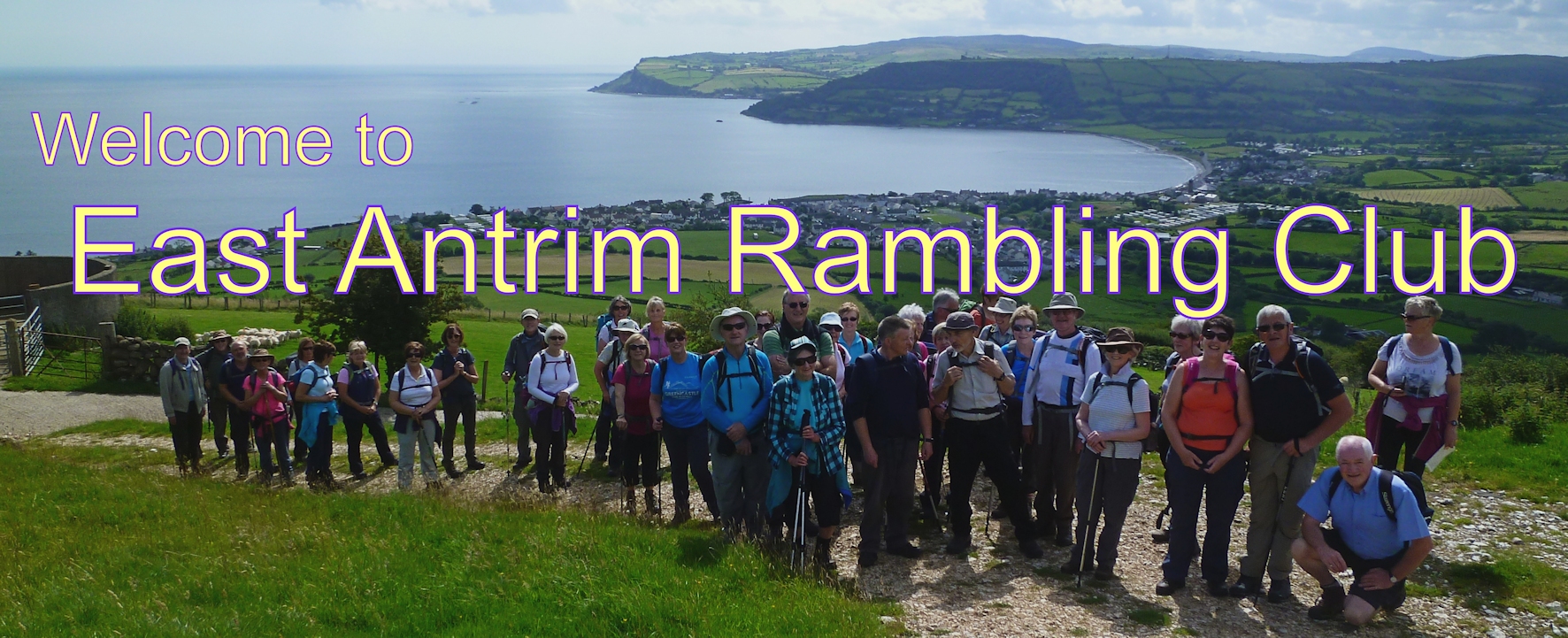 Current Sunday Programme         Current Wednesday Programme
Keep up to date at our Facebook page:-   https://www.facebook.com/EastAntrimRamblingClub
The East Antrim Rambling Club, founded in 1979, organises a programme of walks every Sunday throughout the year, Summer and Winter and on Wednesday evenings from April to September.  Wednesday morning walks proceed two or three times each month from September to March.
Find out about joining here
October – December Sunday Walks
NB THERE IS NO WALK ON THE FIRST SUNDAY OF EACH MONTH – DECEMBER BEING THE EXCEPTION

DATE

WALK

IMP (interim meeting point)

WALK MEETING POINT (ordnance survey grid ref, OS sheet number)

DESCRIPTION

(distance, elevation if over 200 metres, nature of terrain, useful information)

28th October

Comber Greenway and Scrabo

 No IMP

Killinchy Road car park

Comber 

J460691 Sheet 21

Comber to Scrabo Tower via the Greenway

Flat, mostly hard surface, trainers should suffice.

11th November

Sperrins

Banagher Glen to Altaheglish Reservoir and Altaheglish Hill through Banagher Forest

Sandyknowes Roundabout – hard shoulder on A6

9.15 am

Car park at Banagher Glen signposted on B74 Dungiven/Feeny road.

(if gate to Banagher Nature Reserve closed, meet in small parking area outside gate)

C671047 Sheet 7

9 miles

360 metres

Circular walk on surfaced road and forest track. Some steep sections.

18th November

North Down Coastal Path

Bangor - Holywood

No IMP

Holywood station at 9.45 to catch 9.53 train to Bangor (or this train from Lanyan Place at 9.42)

8 miles

Coastal path – trainers should suffice

25th November

Antrim Plateau

Dungonnell Way

Sandyknowes Roundabout – hard shoulder on A6

9.30 am

Car park just on Ballymena side of Cargan on A43

D173163 Sheet 9

9.5 miles

Circular walk on track and road. Gentle gradient.  Waterproof footwear required e.g. trail shoes. Boots probably the best

option..

2nd December

Special Walk! 

Mournes

Slieve Donard

Carryduff shops

 (Just beyond Eight South Restaurant)

 8.45 am

Donard Park (car park)

J373305 Sheet 29

Walk must start at 10 am due to restricted daylight!

6 miles

850 metres

Full mountain gear essential given the time of year and the possibility of a rapid change in the weather.

9th December

Carnmoney Hill and Newtownabbey Way

No IMP

Whiteabbey Village car park

J360830 Sheet 15

8 miles

230 metres

Road, track and open hillside.  Boots and poles necessary.

16th December

Lagan Regional Park

Barnett Demesne – Giant's Ring

(mince pies and mulled wine at Margaret's after!)

NO IMP

Malone House car park, Barnett Demesne

J322692 Sheet 15

8 miles

Trails and towpath of Lagan Regional Park. 

Trainers should be fine unless weather has been wet (or worse!) Poles useful for certain parts
October – December Wednesday Walks

Date

Details of Walk

31st
Oct

Oakfield Glen and Bashford Wood (Carrickfergus). Meet outside the front of Carrickfergus Train Station at 10.25. Trains depart GVS 9.45, Central 09:55, Whitehead 10.15. Return trains to Belfast and Whitehead every half hour.

7th
Nov

Cavehill Country Park. Meet @ Castle Garden-Fountain

21st
Nov

Moira Railway Station – Broadwater – Aghalee. Meet at Moira NIR Station. 10:10 train from Great Victoria Street arrives Moira 10:43.

5th
Dec

Cregagh Glen to Lisnabreeny. Meet at bus turning circle just before junction of Cregagh Park and Cregagh Road (below dual carriageway)

19th
Dec

Whitehead area. Meet at Car Park at start of Blackhead Path.
Programmes

Walk Reports

Links   (Updated 18.9.12)

E-mail Address:-

Day Walks

Evening Walks:-

Click on Signpost for Details
Click Here or on image above for Sunday Walks February – April 2016
Click Here for Mid-Week Walks - Oct 2015-March 2016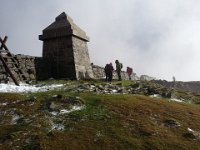 Click Here for Sunday Walks Nov 2015 – Jan 2016
Click Here for Commedagh November 2015
Click here for Glenariffe Walk 2015-11-01
Click here for Jenkin Forest & Lakes October 2015
Click here for Mallorca Holiday September 2015 Part 1
Click here for Mallorca Holiday September 2015 Part 2
Click here for Gerard's Mallorcan Odyssey
Click here for Mourne River in Spate 14th April 2013
Click here for Pictures from Sligo – Easter 2013
Click here for Pictures from Killynether Wood 10th November 2010
Click here for Pictures from Sliab Beagh 20th June 2010
Click here for Pictures from Slieve Donard 31st January 2010
Click on Thumbnail to see larger image