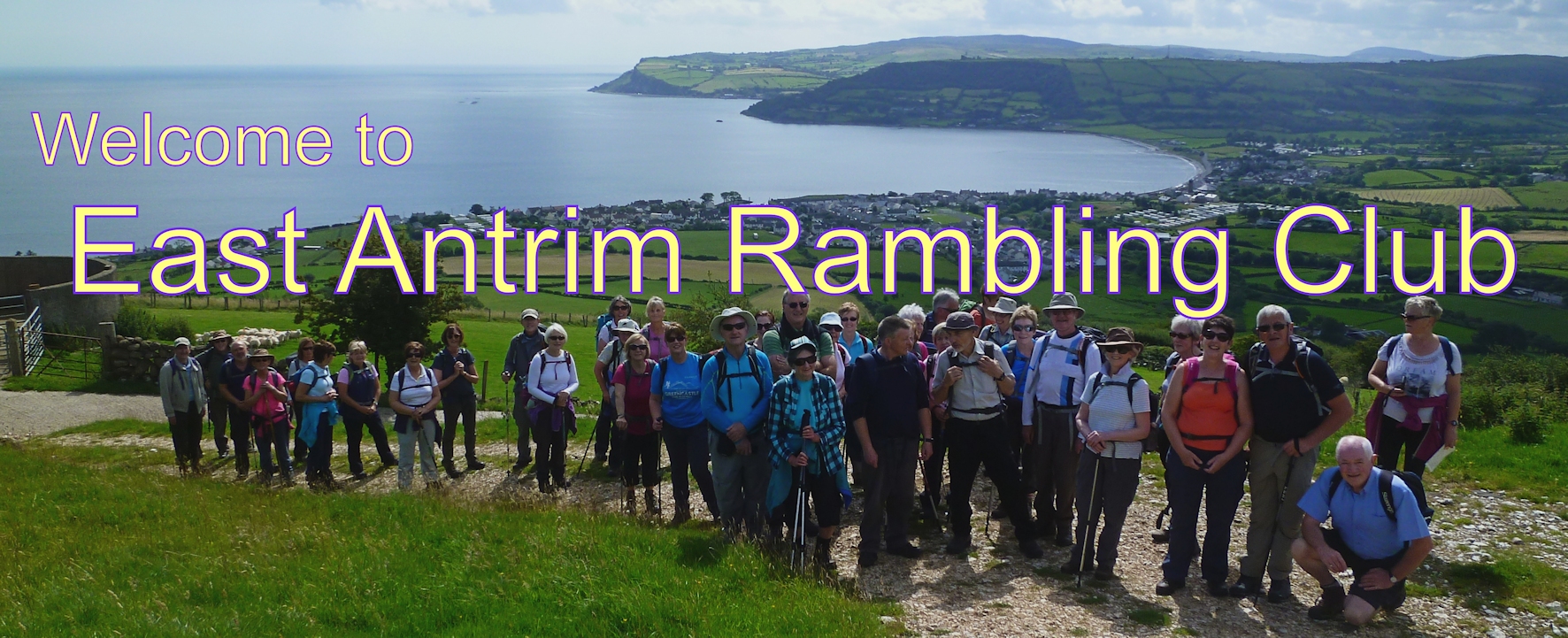 Current Sunday Programme         Current Wednesday Programme
Keep up to date at our Facebook page:-   https://www.facebook.com/EastAntrimRamblingClub
The East Antrim Rambling Club, founded in 1979, organises a programme of walks every Sunday throughout the year, Summer and Winter and on Wednesday evenings from April to September.  Wednesday morning walks proceed two or three times each month from September to March.
Find out about joining here
                   March Sunday Walks

February - March Wednesday Walks

Full Details on winter walks programme here

Start at meeting point at 10.30am unless stated otherwise. IMP at time stated.

Date

Walk

Meeting Point

Grid Ref

4th March

Causeway Coast

Larrybane Head – Dunseverick – Larrybane Head  9 miles

Carrick-a-Rede car park Ballintoy

IMP Sandyknowes 9 am

D050450 Sheet 5

11th March

Mournes

Slieve Bearnagh  6 miles

Ascent 530m

Meelmore Lodge

IMP Carryduff Shops
9.30 am

J306307 Sheet 29

18th March

**Change of Programme**
Lagan Tow-Path

Shaw's Bridge

J323691 Sheet 15

25th March

Ronan's Way

Glendun, Glens of Antrim  5-6 miles

Car park off Glendun Road

IMP Sandyknowes 9.30 am

D194310 Sheet 5

Wednesday morning walks begin at the designated meeting point at 10.30am, unless stated otherwise.

28th
Feb

Holywood Parks, North Down Coastal Path.  Meet at Seapark Car Park

14th
March

Greenisland Station – Station Road – Old Shore Road – Legg Park – Carrick Marina – Marine Highway – Carrick Station. Meet on platform at Greenisland Station at 10:15. Train from GVS at 09:45, train from Whitehead at 09:45.

28th
March

Castlerock – Bar Mouth – Mussenden Temple. Travel by train from GVS 09:10, Central Station 09.20, Yorkgate 09.24, Mossley West 09.33 to Castlerock, arrive 10.50. Return @ :08 minutes past every hour.
April – May Sunday Walks

DATE

WALK

IMP (interim meeting point)

WALK MEETING POINT (ordnance survey grid ref, OS sheet number)

DESCRIPTION

(distance, elevation if over 200 metres, nature of terrain, useful information)

15 April

Divis and Black Mountain

No IMP

Car park on Divis Road (opposite walkway to mountain)

J266741 Sheet 15

Fairly gentle ascent – 250 m

10 miles

Returning to start (café near end of walk )

22 April

Cushendall

(including cliff walk and Layde Church)

Sandyknowes Roundabout – hard shoulder on A6

(BT36 4RF)

9.15 am

Car park on shore side approaching Waterfoot (near 30mph sign)

D258249 Sheet 9

Approximately 8 miles

Coastal walk mostly with level paths but also rougher cliff path.  Boot and poles recommended

29 April

Ben Crom and Slieve Loughshannagh

Carryduff shops

Beside Eight South Restaurant

14a Ballynahinch Rd

BT8 8DN        9.15 am

Ott car park

J280279 Sheet 29

Circular walk – approximately 6 miles 450 m

Gentle ascents and descents

Rough ground, boots and poles essential

6 May

Mournes

Silent Valley

Carryduff shops

(As above)

9 am

Silent Valley car park

(charge £4.50 per car)

J305211 Sheet 29

7 miles 450 m

Half rough open hillside with quite steep ascent, half tarmac track.

Full mountain gear needed

13 May

Causeway Coast

(Part 1)

Benone – Castlerock

A - B

Sandyknowes Roundabout

(See above if unsure of location)     9.15 am

Meeting at car park at top of Castlerock to leave half the cars (B)

C773363 Sheet 4

Start of walk at Benone (A)

8 miles approx. Mixture of beach, road, grassy track

Only 2 people per car to facilitate the A-B plan – more info on this walk nearer to date
April – May Wednesday Evening Walks

Date

Details of Walk

4 April

Newtownabbey Way. Mossley Mill – Corr's Corner. Meet at Mossley West Railway Station.

11 April

Carrickfergus Marina and Sea Front. Meet at Omniplex Cinema Car Park

18 April

Carnmoney Hill. Meet at Whiteabbey Village Car Park

25 April

Minnowburn – Lock Keeper's Cottage – Edenderry – Giant's Ring. Meet at Minnowburn Beeches Car Park

2 May

Drumalis House - Larne Prom. Meet at the seafront car park at Larne Leisure Centre.

9 May

Whitehead. Meet at start of Blackhead Path.

16 May

Mallusk.  Meet in Crown & Shamrock Car Park, Antrim Road, Glengormley.  Enjoy music in the pub afterwards.
Programmes

Walk Reports

Links   (Updated 18.9.12)

E-mail Address:-

Day Walks

Evening Walks:-

Click on Signpost for Details
Click Here or on image above for Sunday Walks February – April 2016
Click Here for Mid-Week Walks - Oct 2015-March 2016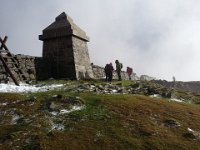 Click Here for Sunday Walks Nov 2015 – Jan 2016
Click Here for Commedagh November 2015
Click here for Glenariffe Walk 2015-11-01
Click here for Jenkin Forest & Lakes October 2015
Click here for Mallorca Holiday September 2015 Part 1
Click here for Mallorca Holiday September 2015 Part 2
Click here for Gerard's Mallorcan Odyssey
Click here for Mourne River in Spate 14th April 2013
Click here for Pictures from Sligo – Easter 2013
Click here for Pictures from Killynether Wood 10th November 2010
Click here for Pictures from Sliab Beagh 20th June 2010
Click here for Pictures from Slieve Donard 31st January 2010
Click on Thumbnail to see larger image