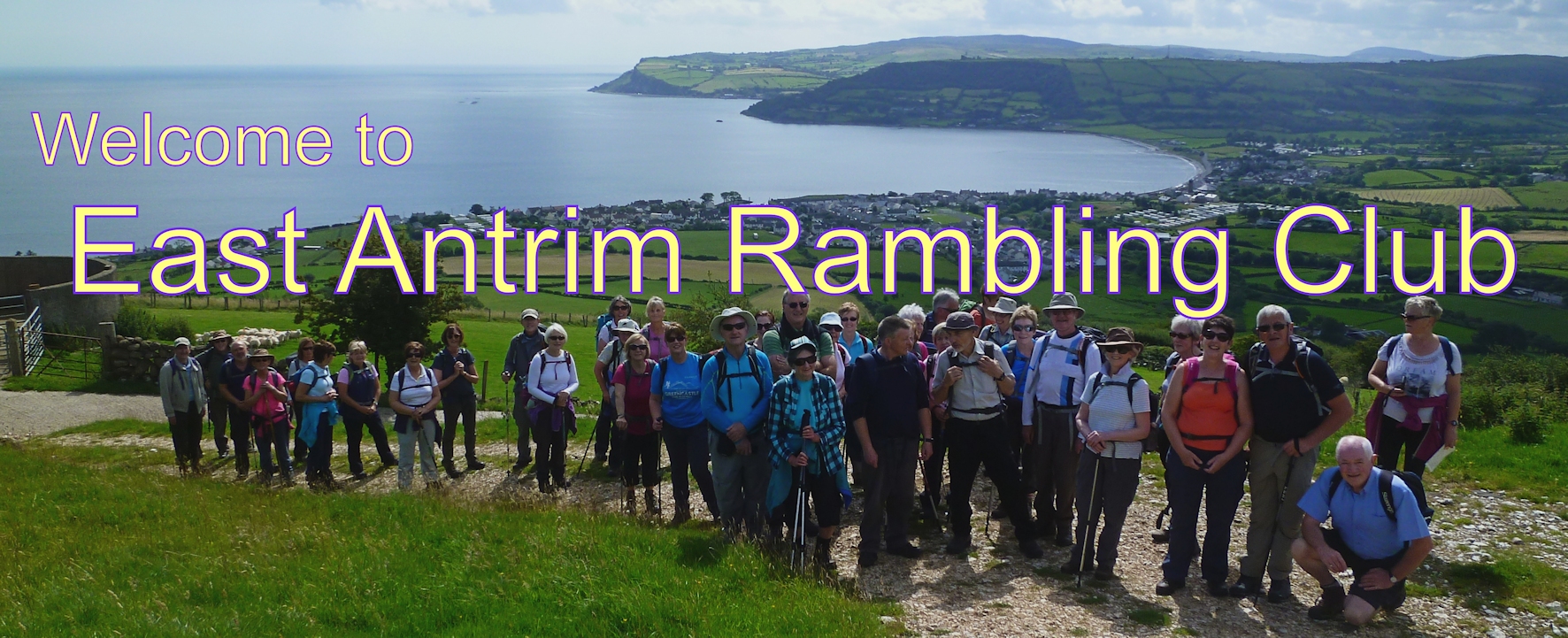 Current Sunday Programme         Current Wednesday Programme
Keep up to date at our Facebook page:-   https://www.facebook.com/EastAntrimRamblingClub
The East Antrim Rambling Club, founded in 1979, organises a programme of walks every Sunday throughout the year, Summer and Winter and on Wednesday evenings from April to September.  Wednesday morning walks proceed two or three times each month from September to March.
Find out about joining here
March 2019 - Sunday Walks
NB THERE IS NO WALK ON THE FIRST SUNDAY OF EACH MONTH – DECEMBER BEING THE EXCEPTION

DATE

WALK

IMP (interim meeting point)

WALK MEETING POINT (ordnance survey grid ref, OS sheet number)

DESCRIPTION

(distance, elevation if over 200 metres, nature of terrain, useful information)

10th March

Antrim Plateau

Glenarm to Carnlough

A-B

Sandyknowes Roundabout – hard shoulder on A6

9.15 am

Carnlough car park

(behind Spar)

D287182 Sheet 9

8 miles linear walk

Walking at the coast, then inland in hills finishing at Carnlough (includes tour of Glenarm)

Only 2 people per car to Carnlough (B) in order to drive others to start of walk in Glenarm (A)

15th March

CLUB'S 40TH ANNIVERSARY DINNER @ Corr's Corner Hotel – details will follow

17th March

Strangford/Lecale

St Patrick's Day walk

Carryduff shops

(Just beyond Eight South Restaurant)

9.45 am

Strangford village car park

J588497 Sheet 21

More information closer to date – also possibility of the traditional St Patrick's Day Walk hosted by Lecale Walkers taking place that day or on Monday 18th

24th March

Ards Peninsula

Portaferry Heritage Trail

No IMP

Exploris Car Park

J590510 Sheet 21

7 – 8 miles circular walk including historical tour of Portaferry plus Nugent's Wood and Windmill Hill.

Trainers should be sufficient

31st March

Dublin

Portmarnock to Malahide

 

Lanyon Place Station

(Central) Belfast

8.30 am for 9 am train to Dublin

Regroup in Connolly Station on arrival (approx. 11.15 am) to get the DART to Portmarnock  (20-25 mins)

Lunch on arrival  - packed lunch or local cafe

5 miles linear walk

Walking on road, grassy track, sand dunes and beach to Malahide.  Then a DART train back to Connolly station.

Belfast trains 4 pm and 7 pm
March 2019 - Wednesday Walks

Date

Details of Walk

6th
March

Helen's Bay – Holywood. Travel by train to Helen's Bay, from GVS 10:02, Central 10:12, arrives 10:33. Return from Holywood every half hour at XX:17 or XX:47.

20th
March

Newtownabbey Way. Mossley to Hazelbank. Meet at Mossley West  Station. Return by bus from Shore Road.
Programmes

Walk Reports

Links   (Updated 18.9.12)

E-mail Address:-

Day Walks

Evening Walks:-

Click on Signpost for Details
Click Here or on image above for Sunday Walks February – April 2016
Click Here for Mid-Week Walks - Oct 2015-March 2016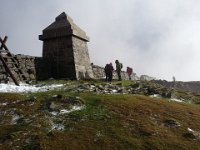 Click Here for Sunday Walks Nov 2015 – Jan 2016
Click Here for Commedagh November 2015
Click here for Glenariffe Walk 2015-11-01
Click here for Jenkin Forest & Lakes October 2015
Click here for Mallorca Holiday September 2015 Part 1
Click here for Mallorca Holiday September 2015 Part 2
Click here for Gerard's Mallorcan Odyssey
Click here for Mourne River in Spate 14th April 2013
Click here for Pictures from Sligo – Easter 2013
Click here for Pictures from Killynether Wood 10th November 2010
Click here for Pictures from Sliab Beagh 20th June 2010
Click here for Pictures from Slieve Donard 31st January 2010
Click on Thumbnail to see larger image